Our Story
Welcome to Cheeky Nibble - Where Delicious Meets Allergy-Friendly!
Dive into the captivating origin story of our beloved granola business, founded by the young, female entrepreneur, Marietta Hickman.
At Cheeky Nibble, we understand that dietary restrictions should never limit your taste buds' exploration. That's why Marietta embarked on a journey to create a brand that caters to individuals with food allergies while delivering mouthwatering granola.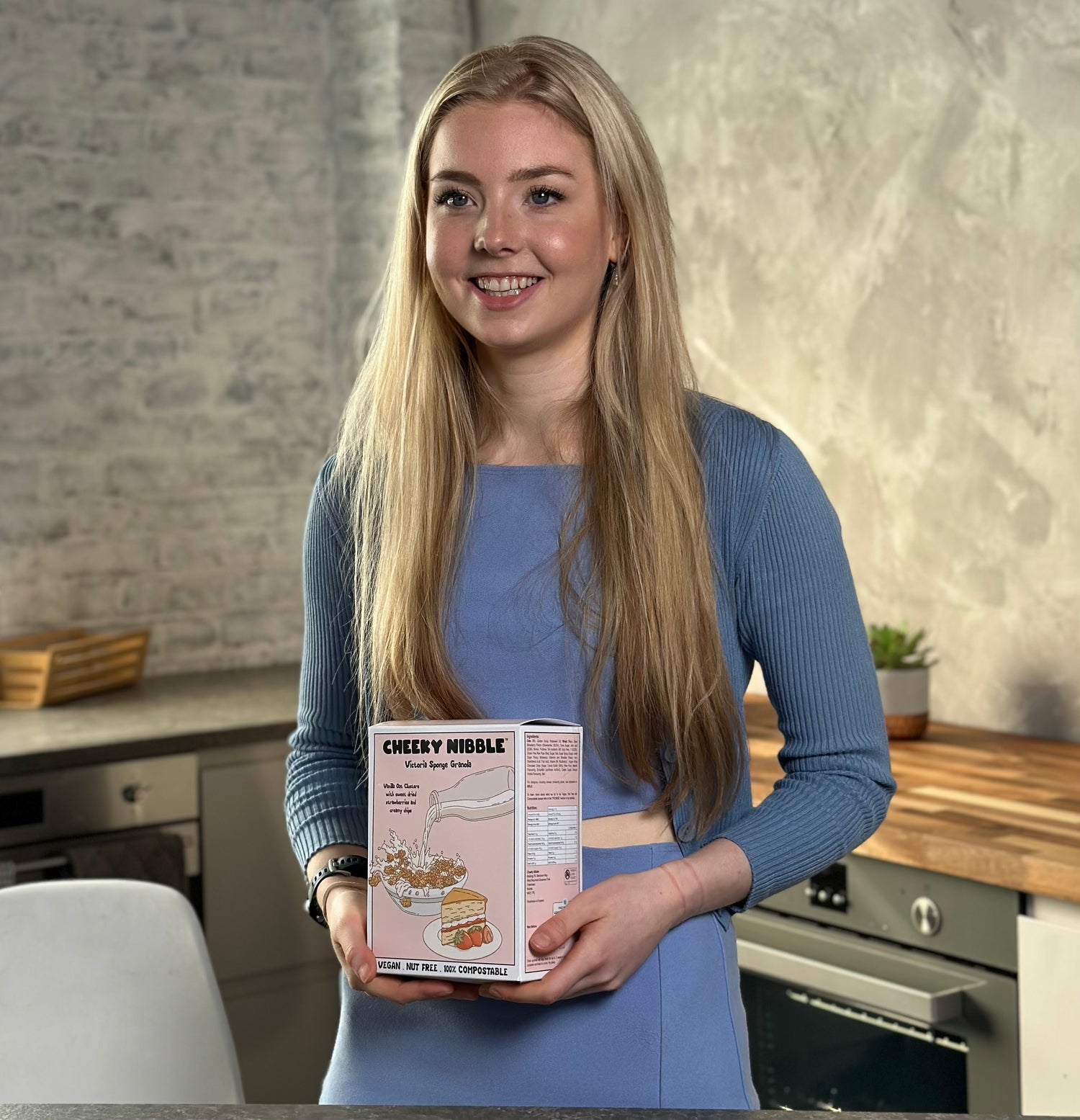 Hi, my name is Marietta and I am the founder of Cheeky Nibble...
Cheeky Nibble was born because I wanted to recreate my childhood happiness of enjoying truly delicious breakfast cereal while reading my morning comic. 
​
All my flavours are inspired by the nostalgic British desserts of my childhood and my favourite adult treats, making my granola a fun, indulgent and delicious start to your morning. No need to root around looking for those elusive oat clusters any more! At Cheeky Nibble every box guarantees the BIG CRUNCHY CLUSTERS that we all love.
​
However, the big clusters serve a greater purpose than just a delicious crunch. They are perfectly snackable and ideal for a  mid-workout munch, or cheeky nibble on the go.  I am autistic and have Tourettes Syndrome, (this means I get involuntary tics when I'm anxious). Fortunately, I found the act of baking and exercise helps reduce my anxiety and improve my mental health. This led to me combining my two passions: baking granola that was chunky enough to take with me to the gym in flavours that were nostalgic to me and brought comfort and a smile. I really wanted to share this joy with more people, and so, Cheeky Nibble was born! 
​
All my granola is vegan, gluten free and nut-free, and our boxes are carbon balanced with the World Land's Trust, so you can have an indulgent breakfast, with a clear conscience. Making Cheeky Nibble the delicious AND ethical choice. 
​
I hope you enjoy my Cheeky Nibble creations as much as I do.
Try Cheeky Nibble!